State Forest & Scenic Parks
Dubois County is home to Ferdinand State Forest, Patoka Lake Recreational Area, and scenic parks both big and small.
Dubois County, located in the rolling hills of southern Indiana, offers unique outdoor recreation opportunities. Between the two State Parks, the Ferdinand State Forest and Patoka Lake and the Parklands of Jasper, bring the family to enjoy hiking, swimming, biking, camping and so much more! Don't miss the smaller parks offering great playground equipment for kids to enjoy or take a stroll on one of the many paved walking paths in Dubois County. 
Huntingburg Parks
Enjoy one of the three main parks located in Huntingburg, IN.
The Huntingburg City Park is home to the public swimming pool and splash pad, youth baseball and softball fields, offers playground equipment, volleyball, basketball and tennis courts, multiple shelter hourses, a walking/bike path, shelter houses and is home to League Stadium.
Market Street Park, located just off Historic 4th Street in downtown Huntingburg hosts a variety of festivals and events throughout the year using the pavilion, ampitheater, and outdoor seating areas. New in 2023 is a firepit feature with a public restroom facilitiy. 
Niehaus Park is another great asset to the City of Huntingburg offering a driving range, disc golf course, and walking path for the public to enjoy. 
The Parklands of Jasper is a 75-acre major urban renewal endeavor that turned a private 9-hole golf course and the surrounding woodlands into Indiana's Natural Destination.
Features Include:
Two miles of walking trails including a multi-purpose path.
A walking signature bridge is lighted at night to draw attention to the park.
Three ponds, all connected by elevated pathways.
Approximately 25 acres of woods were made possible by benefactors.
Two water cascades.
A wetlands area for nature studies.
The Pavilion – an indoor public event space seating 160 people with Pavilion Patio overlooking Otis Pond.
A splash pad with three rock features and 42 jets.
Four GTFit outdoor exercise pods with 10 pieces of exercise equipment
An Adventure Play Area featuring climbing rocks and balance beams.
A Tree Fort
A Musical Playground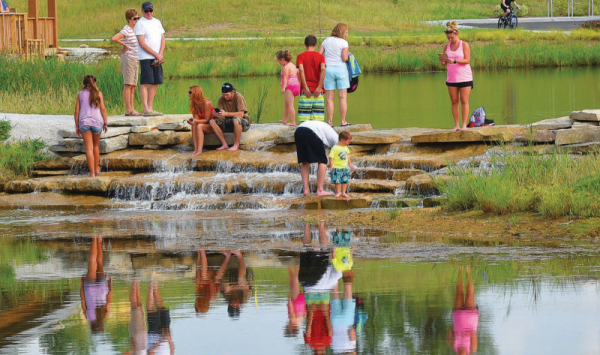 Ferdinand Parks
Great for get togethers or just a fun day with the kids, public parks in Ferdinand, IN offer a variety of things to do! The newest park is Ferdinand Old Town Lake, featuring a 1 mile walking path, lake with a kayak launch and fishing pier to enjoy. The other two public parks, 18th Street & 5th Street Parks offer great playground equipment for the kids.  At 18th Street Park, a walking path connects the park to the Tri-County YMCA facility, Ferdinand Public Library, and the Ferdinand Community! Also within 18th Street Park is a disc golf course, sand volleyball courts, a softball field, and multiple shelter houses for rent. 5th Street Park is where most of the youth softball and baseball tournaments are held and offers playground equipment and sheltherhouses for rent.
Ferdinand State Forest is approximately 6 miles out of town featuring primitive camping, walking and hiking trails, a lake to enjoy kayaking or fishing and beach area to bring the family to enjoy a hot summer day! Also rent shelterhouses for family reunions and parties. 
Request A Visitors Guide
The official Dubois County Visitors Guide is your go-to resource for all there is to discover in southern Indiana. Did you know we mail a FREE guide upon all online requests?
Nearby State & National Parks
Stay Up to Date
Sign up below to receive our eNewsletter and stay up to date on the latest events and happenings in Dubois County!
The Buzz…
Read our most recent blog articles