Are you and your significant other or a group of friends looking for a new way to spend quality time together?  Finding unique date night options can be difficult but we are here to help you with that!  So put down your cell phone, find a sitter for your kiddos, and enjoy a night out on the town.
This date is for the person who just wants to sit back and relax.  You can eat, drink, and mingle all in one place.  The Spirit of Jasper Excursion Train has you covered!  The beautfully restored Spirit of Jasper Train offers more than a remarkable experience.  Embark on a Ride and Dine, Fall Foliage Ride & Dine, Pizza & Beer Ride & Dine, and the Chocolate Wine & Dine excursions.  They offer the area's finest food, beer, wine, and secenery.  Explore Southern indiana's beautful countryside by rail!
Start out the day eating lunch at Soup-N-Such Bistro in Ferdinand.  They feature soup, salads, and paninis.  They also have delicious desserts!  You cannot go wrong eating there.  After that head on out to the Ferdinand State Forest for a nice hike on one of the many trails.  You can also take your kayaks out and enjoy a nice afternoon on the lake.  At the end of the day head on up to the Dairy Barn for some Ice Cream.
Pizza and beer more your thing?  Then head on over to Yard Goat Artisan Ales located in downtown Historic Huntingburg.  They offer an endless amount of artisan ales.  Organic lemon-grass essence soured from hawaii to real fruit infused sours, they offer a robust line up of complex flavors for any palette.  you can build your own Artisan pizza or try a charcuterie tray.  When beer tasting and eating are complete, head on over to Niehaus Park for some Disk Golf or just stroll the downtown streets for unique shopping.  Whindmill Chill in Holland is the perfect way to windup the date.
Sultans Run Golf Club offers a Nine and Dine.  Grab another couple and sign up for 9 holes and a dinner from executive Chef Phil Barth. (Prizes are awarded after the round) Sultan's Run is in the heart of Southern Indiana.  It stretches over 300 rolling acres of woods, water, and wildlife.  It is the home of the most dramatic signature hold in the state of indiana!  Who wouldn't want to play golf here?
Request A Visitors Guide
The official Dubois County Visitors Guide is your go-to resource for all there is to discover in southern Indiana. Did you know we mail a FREE guide upon all online requests?
Let your creativity come alive while you paint your own pottery at My Little Soap Shop & Paint Your Own Pottery in Historic Huntingburg. I know what you are thinking…I'm not creative or I can't paint. Don't worry no experience is required. Bring your kids or...
read more
According to Cleveland Clinic, current winter depression facts include the sobering statistic that about 5% of American adults experience serious seasonal depression, while 10%-20% experience a milder version called the "winter blues."The groundhog disappointed...
read more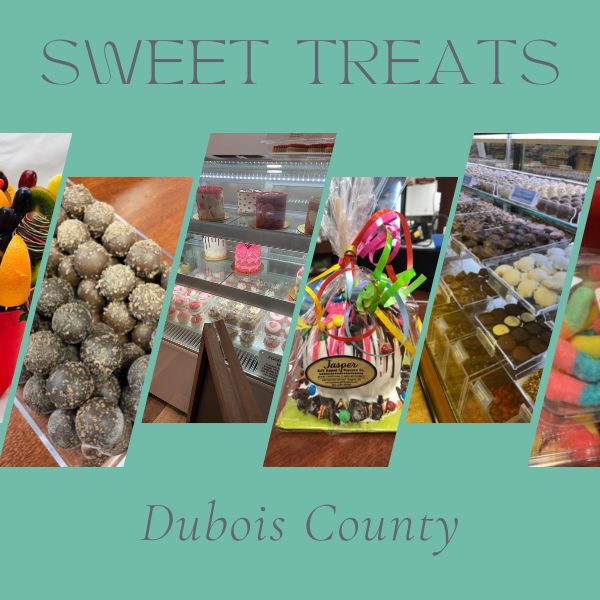 Who doesn't love sweet treats? Cookies, Chocolate, sour or tart candy, to just your normal every day sweets you keep in your desk! Make your next trip to Dubois County a little sweeter and make a stop at one of our  specialty sweet treat shops!Chocolate Bliss and...
read more