Patoka Lake is one of the most beautiful and popular destinations in southern Indiana. Nestled in the Hoosier Hills, this 8,800-acre lake offers a wide range of activities and attractions for visitors of all ages. Whether you want to go camping, hiking, fishing, or boating, or simply relax on the beach, Patoka Lake has something for everyone. And if you're a wine lover, you're in luck: Patoka Lake offers not only spectacular views, but also a thriving winery that produces some of the best wines in the region. You can also enjoy a wine slushie on those hot steamy days.
Hoosier Hills Marina: The Hoosier Hills Marina is located on the north end of Patoka Lake and offers a variety of activities and amenities. The marina has a boat ramp, fuel dock, and slips available for rent. They also offer boat and jet ski rentals, fishing bait and tackle, and a convenience store. While you are at Hoosier Hills Marina check out the Idle Zone Restaurant & Bar. They have the best pizza around!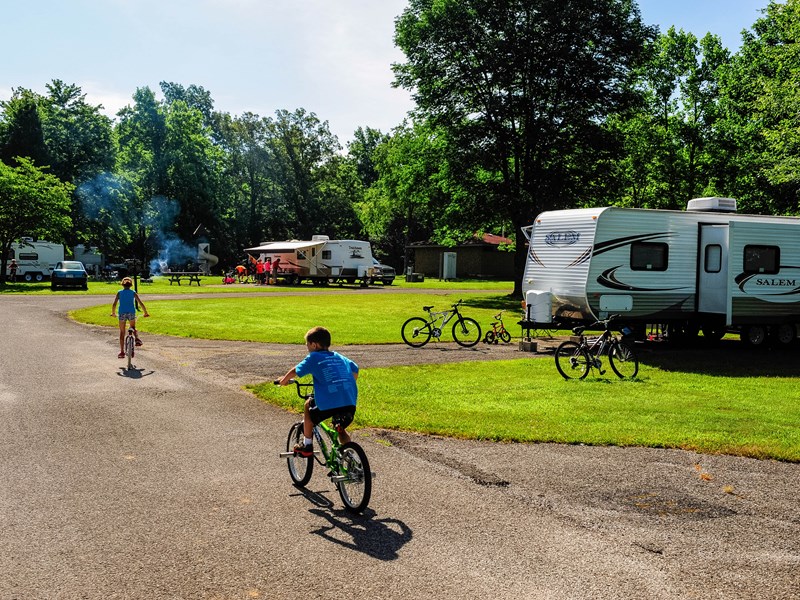 Camping: Patoka Lake campground is a State Park that offers a variety of camping options, from primitive sites to cabins and RV hookups. The Patoka Lake Campground has 529 campsites, ranging from tent sites to full RV hookups. The campground also has several amenities, including showers, restrooms, playgrounds, and picnic areas. You can also enjoy the biking trails along with disc golf. The campground has easy access to the lake and offers great opportunities for hiking, fishing, and bird watching.
Beach area: The beach area at Patoka Lake is a great place to relax and soak up some sun. The beach has a large sandy area and offers swimming and fishing opportunities. There are also picnic areas, playgrounds, and restrooms available for use. If you want to explore the lake, you can rent a pontoon boat, jet ski, or kayak from the nearby marinas.
Winery and Wine Cruises: If you're a wine lover, you won't want to miss a visit to the Patoka Lake Winery. This award-winning winery produces a variety of wines, including reds, whites, fruit wines, and sparkling wines. They also have wine slushies that are delicious. You can take sample their wines/slushies, and even purchase a bottle or two to take home. And if you want to take your wine tasting to the next level, you can book a wine cruise on Patoka Lake. The wine cruises take place on a 60-foot yacht and offer a scenic tour of the lake while you enjoy a selection of different wines and cheeses.
COMING SOON:
A distillery, hotel, and brewery. This will be located right next to the Patoka Lake Winery. The distillery will have a tasting room/gift shop, spirit slushies and craft cocktails. The brewery will have a tasing room, beer flights, tours, and growlers to go! The hotel will have 27 rooms and will be walking distance to the distillery, winery, and brewery. They will also have an event center and tasting rooms at the hotel.
Also, in the area of Patoka Lake, don't miss these things to do! Stop at the Osborn Ramp (off St. Rd. 145) to check out the HUGE sasquatch carved & built by Bear Hollow Carvers! This is a definite instagram photo op!! Also located nearby is the Birdseye Dairy Barn, known for their amazing ice cream cones featuring a variety of different flavor bursts!
Whether you're looking for a weekend getaway or a longer vacation, Patoka Lake has plenty to offer. From camping and hiking to wine tasting and boating, this beautiful lake has something for everyone. So, pack your bags, grab your sunscreen, and head to Patoka Lake for an unforgettable adventure.
Request A Visitors Guide
The official Dubois County Visitors Guide is your go-to resource for all there is to discover in southern Indiana. Did you know we mail a FREE guide upon all online requests?