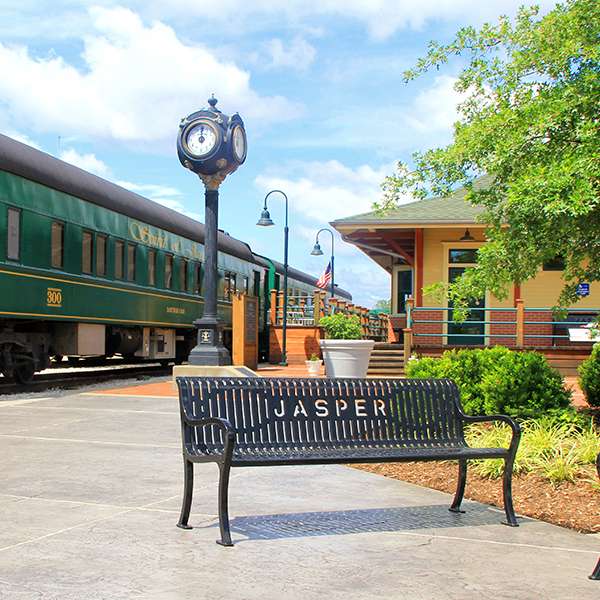 All aboard the Spirit of Jasper for a scenic excursion from the Jasper Train Depot. Three renovated, climate-controlled lounge cars have restrooms, comfortable seating, and a cash bar. Relax aboard the train for specialty rides including "Ride & Dine" dinner rides. The Spirit of Jasper Train Depot is located in the heart of the "Old Jasper" district near the Patoka River. The depot is a replica of the former structure build in 1906 featuring an old-fashioned ticket window, rolltop desks, pot belly stove, and authentic memorabilia. 
The History
This one-of-a-kind passenger train has three different cars that were restored by the City of Jasper employees and generous local corporations and businesses as well as one car leased from the Monon Railroad.
The Club Car #200 was originally built for the Milwaukee Railroad in the 1940s and used as an overnight coach car. It was rebuilt as a passenger car with club-seating for 40 passengers.
The Lounge Car #300 was built between 1917 and 1922 and was originally equipped with shelving and used as a "coffin car" to transport deceased World War I soldiers back to their hometowns. It was rebuilt in a dining car seating configuration and seats 48 passengers.
The Parlour Car #400 was believed to have been built in the 1940s and used for a military hospital car. It was renovated and is set up in a modern contemporary seating configuration with leather couches, an LCD flat screens, and a 19-foot-long bar. It holds 26 passengers but is not used for dining purposes. The Monon Car is leased from its owners "The Monon Railroad Historical – Technical Society, Inc". It was built in 1924 for the Great Northern Railroad and name the "Great Spirit". In 1954 the Monon Railroad purchased it and modernized for the use of Warren Brown, President of the Monon Railroad. This car provides seating for 30 passengers who will experience luxurious dining with table side service and plated meals.
The Buzz…
Read our most recent blog articles
Stay Up to Date
Sign up below to receive our eNewsletter and stay up to date on the latest events and happenings in Dubois County!
Request A Visitors Guide
The official Dubois County Visitors Guide is your go-to resource for all there is to discover in southern Indiana. Did you know we mail a FREE guide upon all online requests?