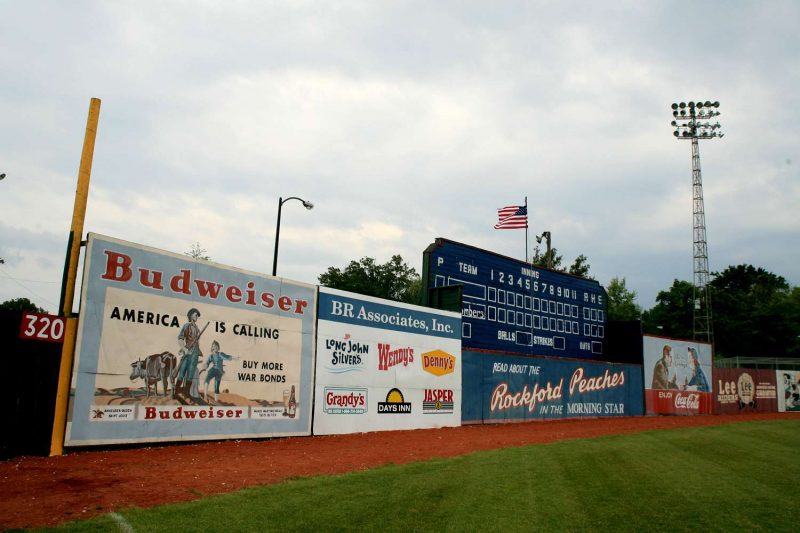 Built in 1894 and renovated in the early 1990s, this historic stadium served as home field for the Rockford Peaches in the filming of the hit motion picture, "A League of Their Own", featuring Tom Hanks and Madonna. Original advertisements from the film remain along the outfield fence. The stadium also starred in the HBO movie, "Soul of the Game." Tours of the stadium are available. 
Catch A Game!
Root for the Dubois County Bombers!  The Bombers are a collegiate wood bat baseball team featuring players from college rosters throughout the United States.  The team calls League Stadium home during the summer months, just as the Rockford Peaches did in the movie.  During Bombers games, Peaches are in the stadium helping everyone have a great time while watching great baseball.
Click here for a schedule
For more ticket information and questions, visit www.dcbombers.com or call 812.683.3700.
Great family fun and entertainment! Old fashioned baseball park with lots of fun. Baseball…games….music…a good time for everyone! Small town U.S.A. comes alive where the movie "A League of Their Own" was filmed! Low cost for admission for a fun evening!
The Buzz…
Read our most recent blog articles
"A Stitch in Time"
What does quilting symbolize? Quilts represent strength, resiliency and the creative spirit that allowed women to cope...
Stay Up to Date
Sign up below to receive our eNewsletter and stay up to date on the latest events and happenings in Dubois County!
Huntingburg City Park
Just a mile from Huntingburg Historic 4th Street
A great community park with shelterhouses, a walking path, swimming pool, splash pad, and playground equipment!
Request A Visitors Guide
The official Dubois County Visitors Guide is your go-to resource for all there is to discover in southern Indiana. Did you know we mail a FREE guide upon all online requests?