Bring on the Fright!
Beginning in October, Dubois County embraces fall with some hauntingly spooktacular happenings!
Here are 5 highlights!
Haunted Huntingburg Blues Festival
Join us if you dare!
October 8, 2022
Downtown Huntingburg 4th Street and Market Street Park transforms into a haunted adventure. Live blues music, kids' activities, craft beer venders, food booths, and more. Fun for all ages!
General admission: FREE this year!
Blues Music Line-Up
1.00 pm to 2.00 pm: Carl Rodenberg Trio
2.30 pm to 3.30 pm: Bleu Phonque
4.00 pm to 5.00 pm: Warrior Kings
5.30 pm to 7.00 pm: Stillwell-Marsh Quintet
Other highlights:
• Fall Photo Ops
• Crawl-O-Ween Shopping Passport
• Hayrides from 12 pm to 3 pm @ City Hall
• "Boo"-ze | Craft Beer Vendors
• Zombie Free Kids Zone & Trick 'R Treat
Food Trucks Include:
• Travelin Toms Coffee
• Calorita
• Chino
• Taco El Llano
• plus Others!
Also, back by popular demand the VIP LOUNGE…
Partake in the Haunted Huntingburg Blues Festival in the Luxury of Huntingburg Historic Old Town Hall Lounge & Back Porch. 
Address: 309 N. Geiger Street, Huntingburg, IN 47542


Bring your appetite as the "lounge" tickets come with an 8-course progressive dinner and unlimited specialty cocktails plus other beverage options. 

Here are the details:
COMPARTIR~ sharable for the table
Cheese & Fruit Tray | select cheeses, mixed berries, apple slices, grapes, honey, mixed nuts, and raspberry dark chocolate.
TAPAS 8 MENU~ featuring PROGRESSIVE DINNER OF SMALL DISHES
1. Shrimp Cocktail. 2. Stuffed Portabella. 3. Ribeye Fajita Tortillas. 4. Chili-lime Grilled Pineapple. 5. Meatballs. 6. Bacon-wrapped Stuffed Jalapenos. 7. Goat Cheese and Sun-dried Tomato on Crostini. 8. Halloween-Inspired Cake Lollipops.
SALUD~ raise your glasses, beverages included:
3 Specialty Cocktails | including Bloody Mary Bar, "Boo"urbon Old Fashioned, and Black Widow Cocktail
PLUS Beer & Wine Options, Tea, Lemonade, and Water
Want to enjoy this experience? Don't delay to secure a spot as tickets are limited and need to be purchased by October 1 (one week before event).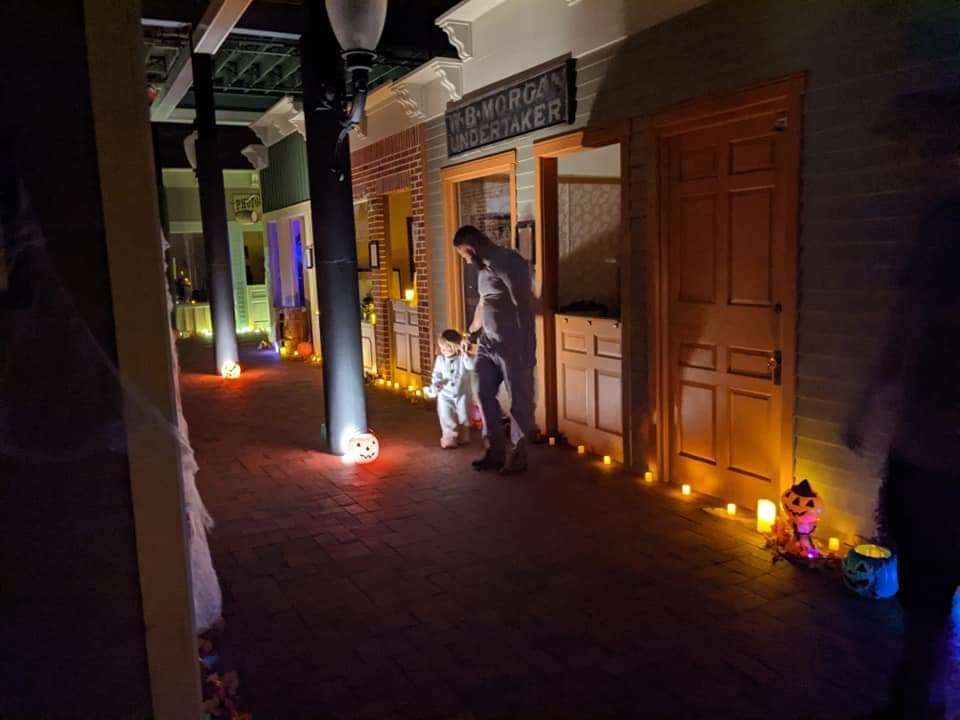 At the Dubois County Museum
Thursday, October 20
Address: 2704 Newton Street, Jasper, IN 47546

Ghosts and Goblins: come prowl the dim, dark streets of the museum's main street exhibit, seeking treats from store owners as they guard their shops! Come in costume!
Enjoy this free night at the museum!

Requested: Call the Museum at 812-634-7733 to reserve a spot and ensure enough treats. Register name and number of ghosts and goblins attending.

Other areas of Museum will be open this night for futher spooky viewing.  
Join the "Crazy Caretaker" for some scary fun at their outdoor haunted house. 
Address: 305 N 2nd St., Holland, IN 47541
Cost = $10 / ticket

Dates (weather permitting) in September: 16, 17, 23, 24, 30
Dates (weather permitting) in October: 1, 7, 8, 14, 15, 21,22, 28, & 29. 
The Howl at the Moon Hike will offer a family-friendly option, along the paved path through the Ferdinand State Forest and also a more advanced trail hike with moderate to challenging terrain through the Ferdinand State Forest.
Address: 6583 IN-264, Ferdinand, IN 47532.
Date: October 17
Registration will begin at 6:00 pm to sign waivers and enjoy some Halloween games. The hikes will start at 7:00 pm EST.
Headlamps or flashlights are strongly encouraged.
Dogs are allowed on leashes.
Please, bring a non-perishable food item. All items collected will be donated to local food banks.
Check out a recent blog article on all things Pumpkin
Do you want to learn more about the arts? If you can relate to the incomparable feeling that results from this powerful form of expression, then you may want to consider partaking in an art workshop! Art workshops provide a unique opportunity for you to explore...
Grab those pumpkin spice lattes, take a deep breath of the crisp autumn air, and enjoy these October events.
Explore & Experience Dubois County