19mayAll DayFeaturedOld Jasper Day and Strawberry FestivalPlus, Riverwalk Concert Series featuring Jed Guillaume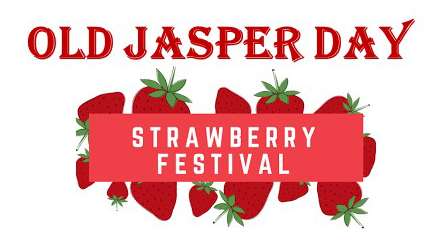 Event Details
Old Jasper Day & Strawberry Festival
The 13th annual Old Jasper Day will be filled with activities down by the Train Depot on Sunday, May 19, featuring the Lion's Club Strawberry Festival at the Gazebo Area, a Riverwalk Concert, train rides, rubber ducky river race, historic tours, and more.
Strawberry Festival presented by the Jasper Lions Club.
Enjoy strawberries,sandwiches and other treats all day long – in the Shelter Houses by the Plaza.
This is a great way to support the Lions Club – have some good food (11 A M -5 P M ) – and enjoy this fun day!
Face-Painting by Ruth – for a small charge – all sorts of fun characters!
Historic Schaeffer Barn & Train Rides
Also be sure to visit the Schaeffer Barn, a restored log barn, located about a block east of the train depot, on 4th St.
There will also be a Historic Walking Tour , as well as short Spirit of Jasper train rides.
Spirit of Jasper Train Rides – these tickets available on this day only – Train Depot.
12 noon/1:00/2:00/3:00 -$3.00 per person – bring the family! (event is sponsored by German American )
Horse-drawn Wagon Rides from 12:00-4:00 PM – hop on near the Train Depot for a short ride around Old Jasper
    There is no charge to ride, but donations would be appreciated.
Patoka 2000 Duck Race
The rubber ducky race will be held at the plaza. Purchase a duck to be in the race!
1:00 PM Family-fun event – great prizes – proceeds will benefit beautification of Jasper efforts
in and around the Patoka River area. Sponsor one plastic duck for $5 or 3/$10.
Due to the high water – – the ducks will not be placed in the river this year.  This is for the safety of our volunteers!!
They will be put in a small swimming pool – – so come and join in the fun as we work to make this event a success!!
Riverwalk Concert
Also scheduled for Sunday is a free Concert in the Park, on the river walk, at the Gazebo in Dave Buehler Plaza. This year the concert will be from 3:00 P.M. ET, featuring Jed Gillaume, solo musician.
For more information:
Contact the Jasper Chamber of Commerce at (812) 482-6866.
Time

All Day (Sunday) Eastern Time