16dec1:30 pm3:00 pmLive Alligator and Reptiles Show at Museum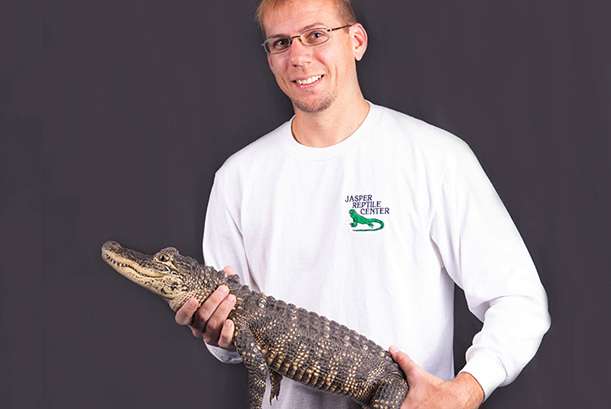 Event Details

The Dubois County Museum welcomes Blake Buechlein of the Jasper Reptile Center, on Sunday, December 16, at 1:30pm.  He will bring live reptiles, includingalligators, and his collection of snakes, lizards, and turtles.  It will be a fascinating show!

Blake Buechlein started the Jasper Reptile Center back in 2001 and it is primarily a reptile rescue.  He takes in unwanted reptile pets and removes wild reptiles from people's homes.  He funds the rescue by doing the reptile shows and selling reptile supplies.

Some years ago an alligator was discovered in the Patoka River by some fishermen. Blake was called and immediately tracked down the gentleman for the location. After a couple of weeks of unsuccessful attempts to catch it, he finally got his chance to get close enough to net it out of the water. Over the years he has heard several stories as to how it got there.  The one he believes is that someone brought it back from Florida and decided they didn't want it anymore so they turned it loose in the river one day while on a fishing trip. This alligator has recently passed away. Blake will be bringing other alligators that he has in his center.

There are several ways people can contact Blake.  Contact him at his website JasperReptileCenter.com, his Facebook page (Jasper Reptile Center), or his phone number at 812-309-1663.

About the Dubois County Museum

The museum is open Tuesday through Friday from 10:00-2:00pm, Saturday from 10:00-4:00pm and Sunday 1:00-4:00pm.  Closed on Monday. The Dubois County Museum is a local nonprofit organization committed to the collection, preservation and interpretation of historical artifacts and information important to the citizens of the county.  Museum operations are funded by annual memberships, admissions, donations and gifts from visitors, area residents and businesses.  The DCM staff consists entirely of volunteers.  It is located in Jasper at 2704 N. Newton Street (US231). Call (812) 634-7733.  Please allow two hours to view exhibits.   Visit the museum web site at  www.duboiscountymuseum.org. Like them on Facebook at Dubois County Museum. Funded in part by the Dubois County Visitors Center-www.visitduboiscounty.com-800968-4578. Come see, discover, and celebrate our Heritage at the Dubois County Museum.
Time

(Sunday) 1:30 pm - 3:00 pm
Location

Dubois County Museum

2704 North Newton Street, Jasper, IN 47546