21jun(jun 21)5:00 pm22(jun 22)11:59 pmFeaturedFerdinand Heimatfest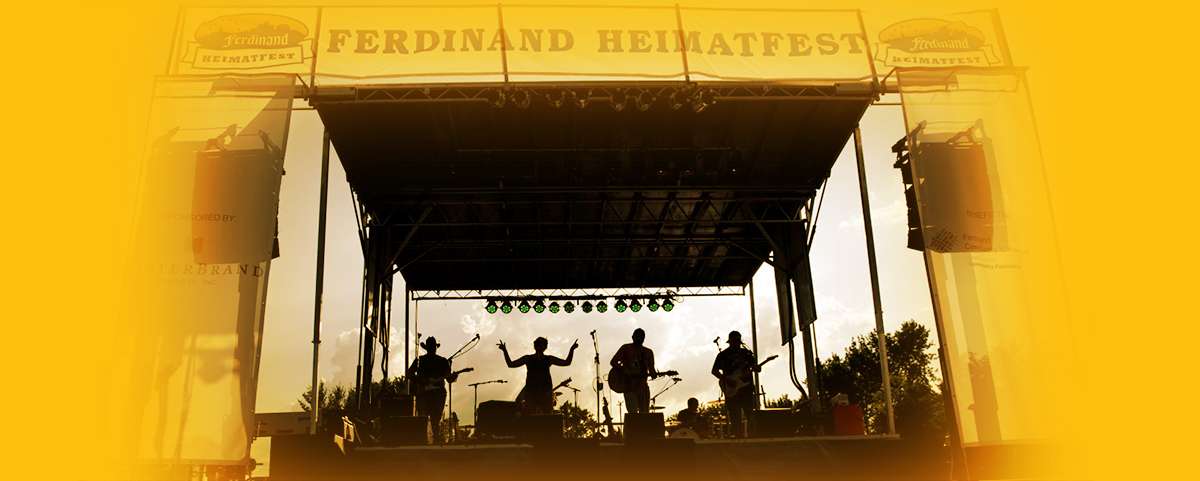 Event Details
23rd Annual Ferdinand Heimatfest
The Ferdinand Heimatfest takes place June 21-22, 2019, at 18th Street Park in Ferdinand, Indiana. Enjoy live music and entertainment, delicious food, a beer garden, and activities all weekend long.
There is something for everyone to enjoy at the Ferdinand Heimatfest. Round up friends and family for the annual 3-on-3 basketball tournament, disc golf scramble or volleyball games. Test your culinary skills at the BBQ contest or bring the kids to the Best Home Furnishings Family Zone. Don't forget the 5K on Saturday morning! Applications to register for the events are available on their website.
Music Lineup
Headliner – Cale Dodds
Date/Time: Saturday, June 22, 9:15pm
Location: Seufert Construction Main Stage at 18th Street Park
Rising country music star Cale Dodds will lead the main act during a free night of entertainment at the 2019 Ferdinand Heimatfest.
Cale Dodds first made a name for himself as a songwriter as A Thousand Horses took his co-penned song "Drunk Dial" to #23 on the billboard country charts in 2015.  A couple years later in 2017, Dodds signed with Warner Music Nashville. He's since put out eight original tracks–including his first charting radio single, the cleverly cool breakup ballad, "Take You Back."  CMT named Dodds a 18 for 2018 Artist and Rolling Stone hailed him as a "New Country Artist You Need To Know."  After his 2018 CMA Fest performance, both Billboard and Rolling Stone described his act as one of the best things they saw from the star packed country music festival.  Now, he's ready to turn the page once more.  The preamble to Dodds' career is over and the first chapter is set to begin.
For additional info on Cale, visit his website.
Opener – Abigail Rose Clark
Date/Time: Saturday, June 22, 7:15pm
Location: Seufert Construction Main Stage at 18th Street Park
Opening for Cale Dodds will be 18 year old Pendelton, Indiana native Abigail Rose Clark.  Rose Clark is in the process of producing her first album featuring some of her original songs.  She has also covered classics by John Sebastian, Ray Davies, Roger McGuinn, and Elliott Murphy.
Check out her website for more info.
Friday Night – Studebaker
Date/Time: Friday, June 21, 8pm
Location: Seufert Construction Main Stage at 18th Street Park
Friday Night's entertainment will be local favorite Studebaker, playing Classic Rock with a touch of Country.  Dave Breitweiser, Mark Mayo, Marty Kingsbury, and Craig Schneider make up the band.
For more information
Visit FerdinandHeimatfest.com.
Time

21 (Friday) 5:00 pm - 22 (Saturday) 11:59 pm